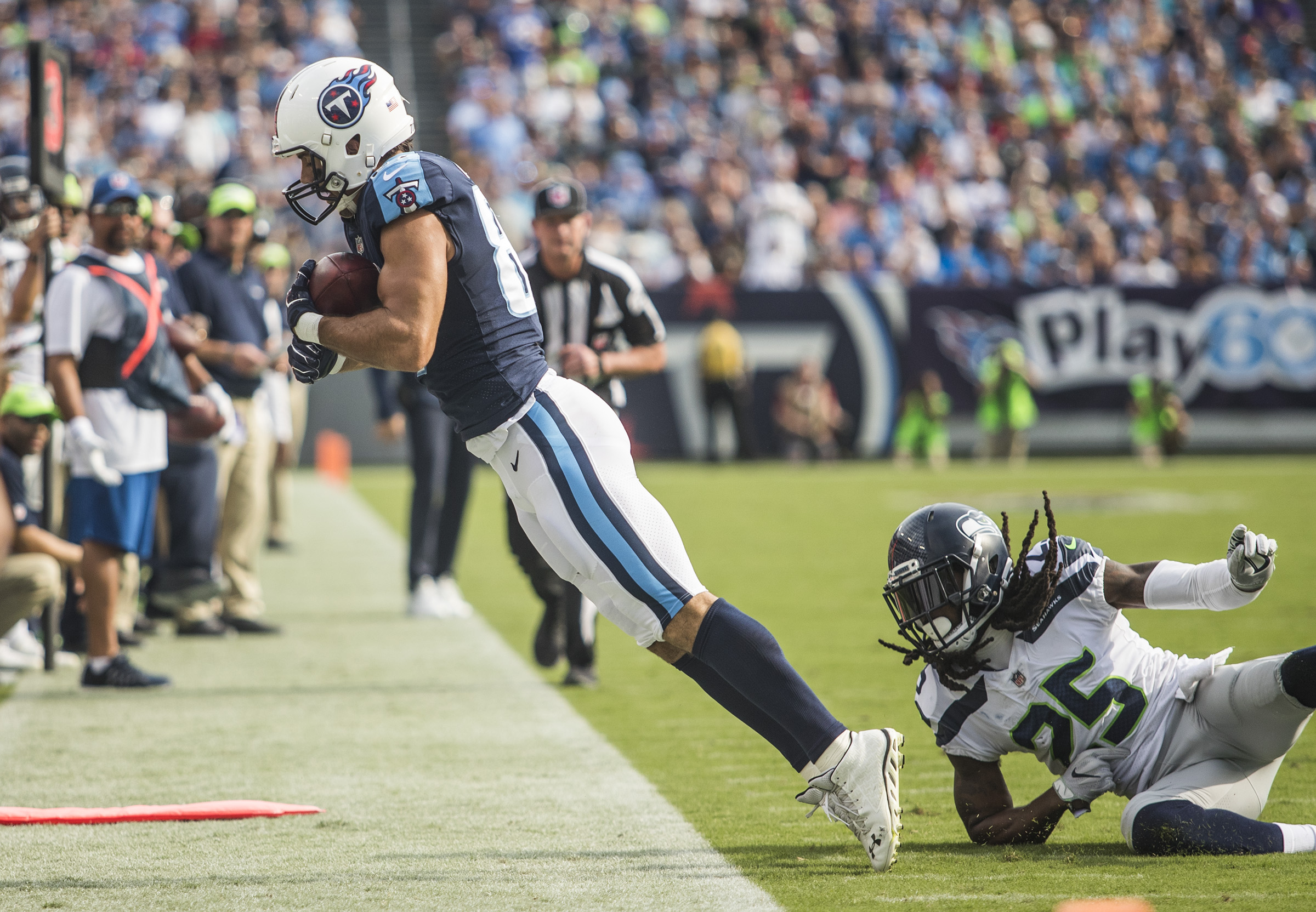 Tennessee Titans wide receiver Eric Decker (87) makes a catch on the sideline while guarded by Seattle Seahawks cornerback Richard Sherman (25) during the Titans' 33-27 win over Seattle on Sunday, Sept. 24, 2017, at Nissan Stadium.
South Warren receiver Caleb Lloyd kisses his girlfriend Ashley Pannell after South Warren's 20-16 win over Covington Catholic in the 5A State Championship on Sunday, December 2, 2018, at Kroger Field in Lexington, Ky.
Western Kentucky Hilltoppers quarterback Davis Shanley (12) talks to his mother, Buffy Shanely, after WKU's 20-17 loss to Louisville on Saturday, September 15, 2018, at Cardinal Stadium.
Defensive back Ta'Corian Darden poses for a photo on Wednesday, August 22, 2018, at Houchens-Smith Stadium.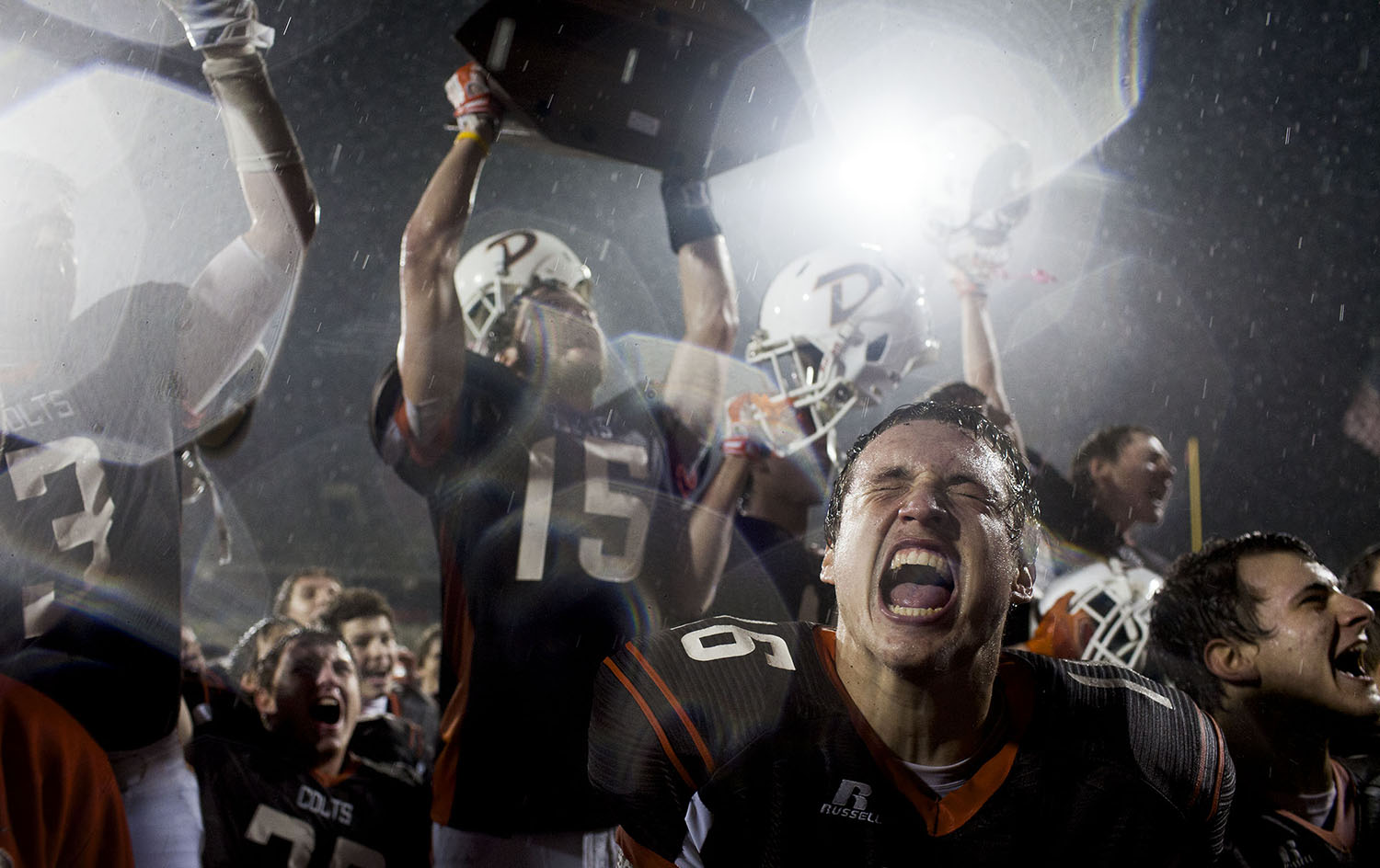 Desales quarterback Austin Johnson cheers with his teammates after Desales' 26-0 victory over Newport Central Catholic on Friday, Dec. 5, 2014, in the Class 2A State Championship at L.T. Smith Stadium in Bowling Green, Ky.
Leslie County's Kennedy Howard competes in the 800 meter run in the KHSAA Class 2A State Track Meet on Friday, May 27, 2016, at University of Kentucky.
Greenwood's Chris Argo returns a volley during their win over Clinton County in the Region 4 tournament on Tuesday, May 10, 2016, at Tennis Performance Institute in Bowling Green.
WKU third baseman Danny Hudzina makes a diving play during their 7-5 win over UTSA on Friday, April 22, 2016, at Nick Denes Field.
Warren Central's Samir Mansulov dives in an attempt to save a shot that went off the post during their loss to South Warren on Wednesday, Oct. 14, 2015, at Bowling Green Junior High School.
Los Angeles Rams tight end Tyler Higbee makes a diving catch Sunday while covered by Tennessee Titans linebacker Jayon Brown during the Rams' 27-23 win at Nissan Stadium in Nashville.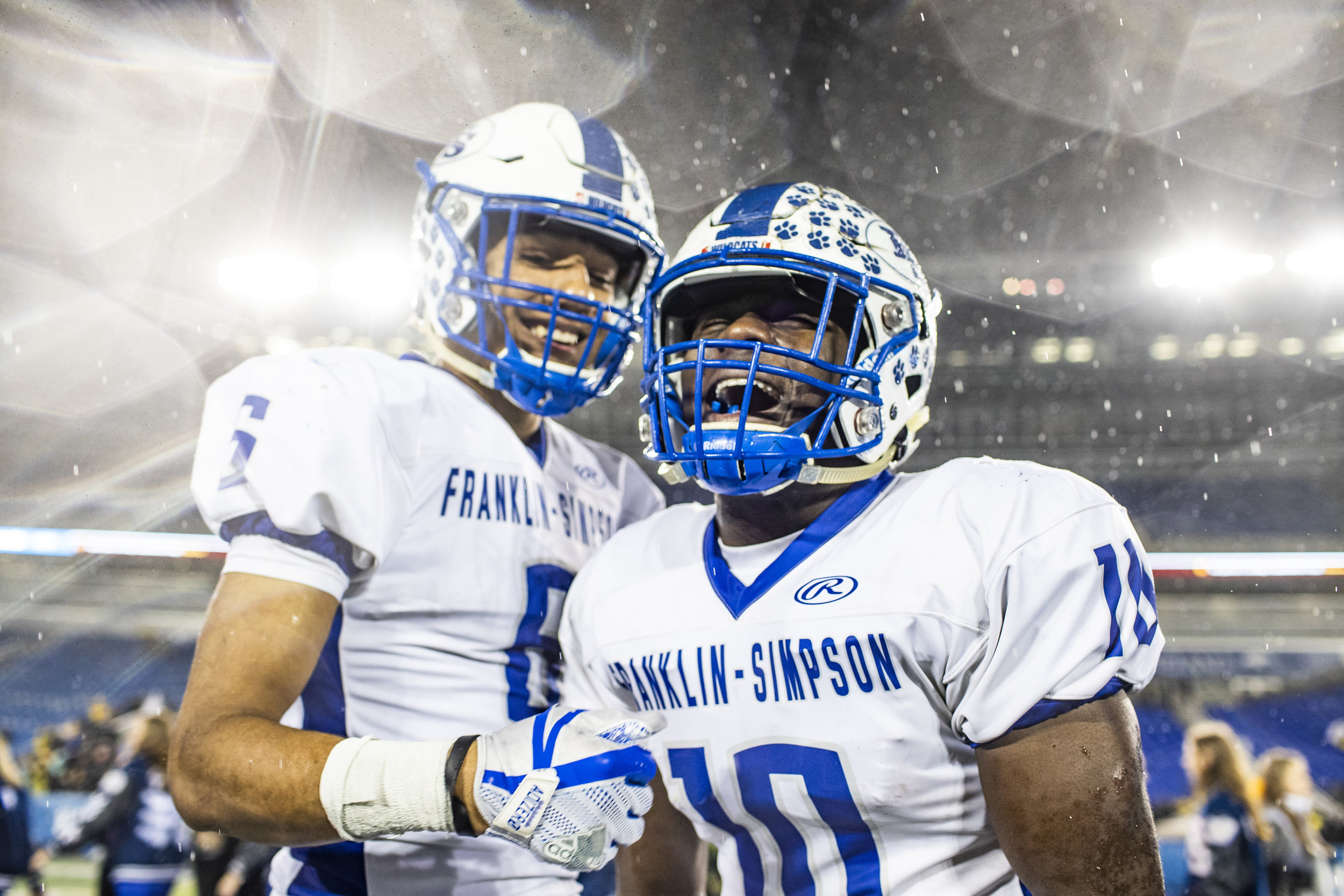 Franklin-Simpson's Leandre Stutzman, left, and Tre Bass celebrate after Franklin-Simpson's 14-12 win over Johnson Central in the Class 4A State Championship on Saturday, December 1, 2018, at Kroger Field in Lexington, Ky.
Tennessee Titans wide receiver Taywan Taylor (13) talks to Baltimore Ravens running back Bobby Rainey (31) after the Titans' 23-20 win over Baltimore on Sunday, Nov. 5, 2017, at Nissan Stadium. Rainey is the first Hilltopper since the program's transition to the FBS to make a career in the NFL.
Greenwood senior Blake Kirby puts on his helmet before their game against Logan County on Friday, Sept. 18, 2015, at Greenwood. Kirby has an unknown form of Ataxia, but both teams agreed to let him run the ball in for a 2-point conversion during the game.
The Hilltoppers chant together in a huddle before WKU's 65-59 win over North Texas on Thursday, Feb. 5, 2015, at E. A. Diddle Arena in Bowling Green, Ky.
Western Kentucky Hilltoppers senior and Bowling Green native wide receiver Nacarius Fant (1) shakes hands with fans after WKU's 27-17 loss to Georgia State in his last game on Saturday, Dec. 16, 2017, at Camping World Stadium.
Tennessee Titans quarterback Marcus Mariota (8) stiff-arms Seattle Seahawks middle linebacker Bobby Wagner (54) as he runs out of bounds during the Titans' 33-27 win over Seattle on Sunday, Sept. 24, 2017, at Nissan Stadium.
Western Kentucky Hilltoppers guard Darius Thompson (15) throws a pass while diving around Old Dominion Monarchs forward Trey Porter (15) during WKU's 57-49 win over ODU on Friday, March 9, 2018, at The Ford Center at The Star.
Western Kentucky Lady Toppers head coach Michelle Clark-Heard celebrates with her players after their 72-57 win over UAB to win the Conference USA Championship on Saturday, March 10, 2018, at The Ford Center at The Star.
Warren East catcher Kendall Smith reacts as South Warren scores the game-winning run during the Region 4 championship on Thursday, June 1, 2017, at the WKU Softball Complex.
Warren Central's Skyelar Potter celebrates with fans after Warren Central's 66-56 win over Bowling Green on Thursday, January 11, 2018, at Bowling Green.